Diane von Furstenberg
Wednesday, April 04, 2012
Diane von Furstenberg is a fashion designer presented to the world in 1972 with a bag full of jersey dresses. Two years later, Diane created the wrap dress, a strong symbol of power and independency to a new generation of women. In 1976, she had already sold more then a million dresses and came out in Newsweek magazine cover. In 1977, after an year far away from fashion industry, Diane reappeared in New York's Fashion Week with a new wrap dress. After that, she built her company as a global and luxurious trademark. DVF dresses are actually sold in 70 countries and more than 62 stores around the world.

Diane von Furstenberg é uma designer de moda que se apresentou ao público em 1972, com uma mala cheia de vestidos jersey. Dois anos mais tarde, criou o vestido envelope, que veio a simbolizar poder e independência para uma nova geração de mulheres. Em 1976, já havia vendido mais de um milhão de vestidos e saiu na capa da Newsweek. Em 1997, depois de um ano longe da moda, Diane ressurgiu na semana da moda em Nova Iorque com o relançamento do vestido que deu início ao seu sucesso e restabeleceu a sua empresa como marca global de luxo. A DVF é actualmente vendida em 70 países e tem mais de 62 lojas em todo o mundo.




Luis Aguirre, a designer specialized in motion graphics, collaborated with Diane Von Furstenberg to built an animation video, that in my opinion is a really good example of a quality design work because of its dinamism, vibrante colours and elegant illustrations.
O designer Luis Aguirre, especialista em motion graphics, colaborou com Diane Von Furstenberg na concepção de uma animação, que a meu ver está muito bem pensada e executada, não só através do dinamismo patente no vídeo, como também através da elegancia das ilustrações. Narrada pela própria Diane, a animação transporta-nos para uma viagem emocionante, que mostram peças da colecção DVF.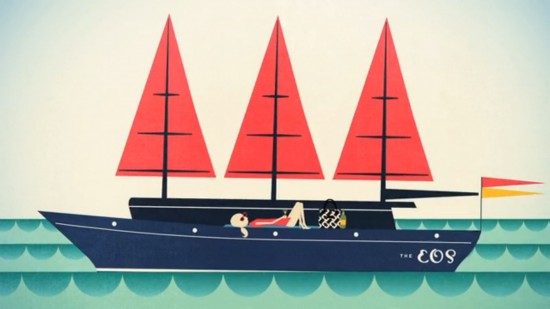 O vídeo: